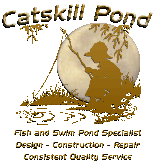 return to: Home Page

Complete Pond Building
Services
click on the links below for details
"Green" Vegetation Control
Water Analysis
Liming Services
Lake & Pond Management
Native Fish Stocking
Habitat Improvement
Aeration Specialist
Soil Analysis
Master Pond Builder and Carver
Pond Restoration
Site Preparation
Property Services

New albums Photo Album
Pond Construction
New Customer Testimonials

New Stocking Permits and information

Pond Building Video
Catskill Pond's Aeration Specialist:

At Catskill Pond we are not just a pond builder, we specialize in aeration systems for ponds and lakes. We bring three generations of experience to every job, from the smallest pond to the largest lake. Catskill Pond has access to all the modern technologies and applications. We have the expertise to design, install and monitor systems for any size pond or lake, greatly improving the dissolved oxygen deficiencies.
The purpose of an aeration system is to introduce oxygen at the bottom layers of a lake or pond, which will break down the organic matter. By controlling the aquatic vegetation, break-down of excess nutrients on pond soil, and the circulation of the water, the biological filtration of wet lands in the lake or pond is greatly improved. The result is: improved water quality, prevention of fish kill, thus promoting a healthier fish population and providing a more enjoyable swimming environment in lakes or ponds at swimming and recreation camps.

In addition to cleaning the pond or lake by breaking down organic matter the aeration system when properly applied will break the thermal cline that develops in the hot summer months. The thermal cline is the layer between the water heated at the surface by the suns rays and the very cold layer that sits below the surface. By breaking the thermal cline the water temperature of the whole body of water is moderated to a consistent comfortable swimming temperature vs. the very cold layers that would exist in a lake or pond with no aeration. This also contributes to a larger ecosystem for the aquatic wildlife that will be rich in dissolved oxygen as the layer below the thermal cline is usually oxygen starved.
Every pond and lake in the Catskill region greatly benefits from the addition of an aeration system. An aeration system can serve as an important management tool for the owner who may not be available on site on a regular basis. This makes an aeration system one of the most essential improvements a pond owner can make.
New


Get a laugh watching Scott and Paul
learn to steer the boat with a new trolling motor
while installing an aeration system.
(

click

the photo below)