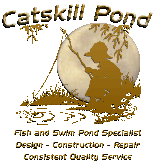 return to: Home Page

Complete Pond Building
Services
click on the links below for details
"Green" Vegetation Control
Water Analysis
Liming Services
Lake & Pond Management
Native Fish Stocking
Habitat Improvement
Aeration Specialist
Soil Analysis
Master Pond Builder and Carver
Pond Restoration
Site Preparation
Property Services

New albums Photo Album
Pond Construction
New Customer Testimonials

New Stocking Permits and information

Pond Building Video
Habitat Improvement:

Not just a Pond Builder, Catskill Pond has a variety of specialty seeds and plants to fit the needs of all our customers. The type of wildlife and fish habitat planting will depend in large part upon the wildlife the customer would like to attract.
Habitat Specialists at Catskill Pond can advise you as to the type of improvements you will need to make for the health and growth of your lake or pond. For example, were you aware that there is a special placement for duck houses or bat houses, which will attract them to your pond? Let Catskill Pond answer this and any other questions you have to improve the area around your lake or pond.

Habitat improvements are a must for healthy and well-maintained pond or lake. We have found that most lakes and ponds lack the proper fish habitat materials. At Catskill Pond these are readily available and easily installed; and, when placed properly, will encourage a thriving spawning bed to increase the fish population.
Selective timber and undergrowth clearing is a valuable tool for attracting game birds and other wildlife. Also, essential and required feed is necessary for the planting of fruit trees and orchards which will foster their optimal growth.

Don't waste hundreds of dollars each year on unnecessary feed. At Catskill Pond, we can create, and our customers will be able to maintain, a pond or lake with habitat area that will replenish itself on a yearly basis. Your property will thrive and be a source of enjoyment for you and the wildlife around you. Contact us today.



Ruffed Grouse




Whitetail Deer




Duck house




Bat house




Apple Tree